Our services
We offer an integrative approach which enables us to guide our clients throughout the planning and construction phases. We develop modern and innovative solutions designed to answer the needs and constraints of the projects that are entrusted to us and of specific clientele. Besides design, Luc Denis Architecte can also help you in several areas with regards to your project:
Feasibility study
Building condition assessment
Co-owner assistance (maintenance plans)
Pre-project development
Expert witness
Occupation licence
Liquor permit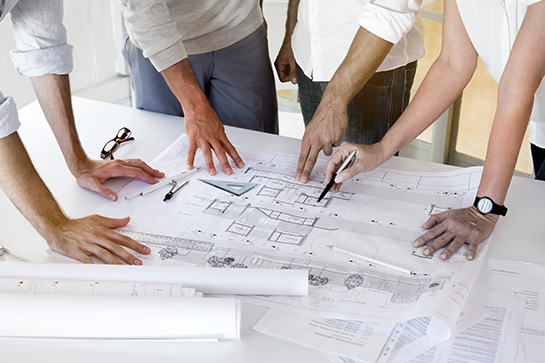 Areas of expertise
URBAN DESIGN
Our vision regarding urban planning consists in making the most out of every space to reduce the ecological impact of our projects. We focus on creating living environments which favour active as well as collective transportation, thus offering users a truly urban experience. Furthermore, we strive to preserve the natural environment by integrating it into the urban framework.
Market research
Demographic study
Density study
Planning of master plan
Creation of work team
Coordination of the various participants: environmental study, civil engineering study, public interest study, file coordination with the various governmental landings
Urban integration study
Change of zoning and PPCMOI
Creation of lot plans
Creation of PPU PIIA
Architectural integration service
ARCHITECTURE
We conceive spaces adapted to contemporary lifestyles and to the needs of new family dynamics. So, whether through spaces which maintain a close connection to their surrounding environment or the creation of interior spaces which differ from market standards, we offer our clients a reflection on the home which goes beyond the architecture itself.
Integrated project planning
Multifamily buildings
Mixed-use projects
Rentals
Private residences
Student residences
Residences for the elderly
Building conversion and change of use
Construction plans
Schedule planning
Creation of work teams
Participant coordination
Editing and presentation of files to municipalities and public counsels
Budget estimates
Volumetric studies
Site supervision
INTERIOR DESIGN
We create environments that truly reflect our clients while expressing timelessness. By offering great flexibility, our goal is for the interior to evolve with the clients' needs.
Interior layout design
Design of integrated furniture
Lighting solutions
Acoustic solutions
Renovation services
Choice of materials and recommendations